Amateur Radio Station K7YVO
Since 1963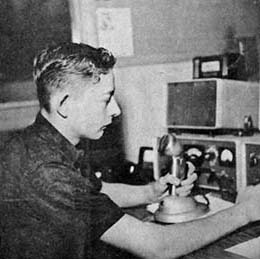 At the ripe old age of 14 and in my freshman year in high school, I joined the school's amatuer radio club. Shortly thereafter I took the test for my novice class ham license and and was issued KN7TEX. Back then the novice license was temporary and was only good for six months. If you did not upgrade the license within one year, you lost the call sign. It took me three tries to pass the General class code test and then pass the theory test. Unfortunately it was over a year since I originally passed the Novice test and because of this I was issue a different call sign of K7YVO.
After graduation and one year of college, I joined the Navy as an Electronics Technician. A few years later I passed the advance class exam and maintained the license until 1983. At that time I was stationed in Bermuda which did not have a recipicol agreement with the US and was unable to operate and have the requirements to renew my licence.
I retired from the Navy and went to work in the private sector and then with the State of Oregon. I retired from the State in 2014 and decided to get back into Ham Radio. A lot had changed in 30 years; call signs; frequencies; no code test. I did luck out and a recent rule change allowed me to take the technician test and get an automatic upgrade to the general class and was issue KG7NLO.
I did some research and found that my old call sign, K7YVO, had not been reissued. I made a vanity request for this call sign and was reissued K7YVO.
More about my personal life can be found at ChristianWilson.org